Letters From Home
"PLATO"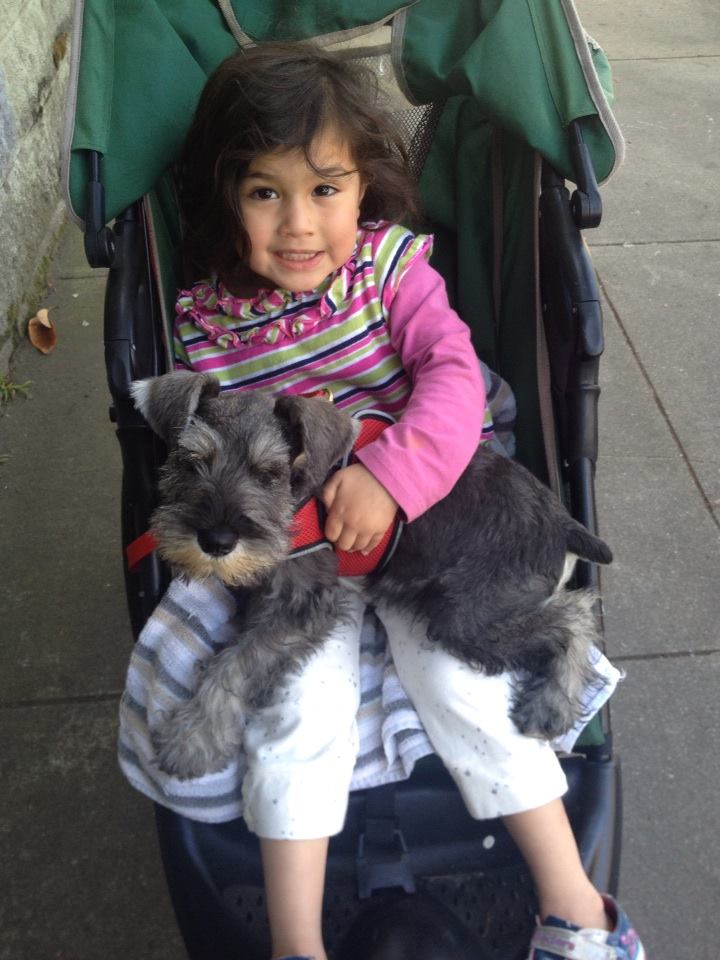 FROM: Nazneen – Mill Valley, CA.
Proud owner of "PLATO"
Hi Doug!
Good to hear from you. Plato is just wonderful...he is the love of my life. I meet a lot of nice men with dogs on our daily walks :) We are living in Mill Valley and he just loves it here. There is a lot of open space to run around and great dog friendly walking trails. He was finally fixed about 2 months ago and can sit and is housebroken. We have play dates and he has a couple of really good friends. Thanks for checking in. I hope all is well with you!
Take Care,
Naz
"BELLE"
FROM: Ken & Jim – Sherman Oaks, CA.
Proud owners of "BELLE"
Hi Guys,
Your new puppies are adorable!
Belle is a feisty 3 year old and a big bundle of love all wrapped up into one! Our 12 year old setter, Gracie, has developed an auto immune disorder requiring many, many vet visits. Belle went to the vet last weekend and was hysterical as I led Gracie down the hall for her blood test. Needless to say, she loves her big sister!
Gracie has always had a tomato fetish and it has now rubbed-off on Belle. They go on a daily hunt in the back yard for fresh tomatoes! Getting tomato seeds out of Belle's beard and mustache is a particular delight!
The girls also act as a team with the toilet paper. Gracie grabs the roll off the holder and bell TP's the house with it! I got upset at first, but then I realized it's pretty funny. It's only TP after all!
Belle is still the most vocal yawner I have ever heard! She has quite a vocal range ranging from snorts to yells to squeals that shatter glass. She pulled a yawn/yell in the parking lot in Santa Barbara and had all of the people passing through busting up. Nothing like a yodeling mini!
Belle is also like a little motor boat in the pool. We took her in on the 4th of July and only got minor flack for it! She is getting used to it little by little and is an expert on getting out of the pool by the steps.
I want to thank you guys for the perfect job you did in raising her as a little puppy. She is incredibly socialized and can be touched anywhere by just about anybody. Props to you! Anyone who gets one of Chili's puppies is a lucky person.
I can't remember if I told you last year, but Belle was the maid of honor at our wedding last year. Gracie was supposed to do the job, but got sick and that was that. Belle was truly the belle of the ball! It was HER party, we were just the reason for the party! I'll send you photos as soon as I figure where we stored them on the computer at home!
I hope all is well in Stockton and the new puppies aren't driving you crazy.
Take care and thanks again for Belle!
Ken and Jim
"MERCEDES"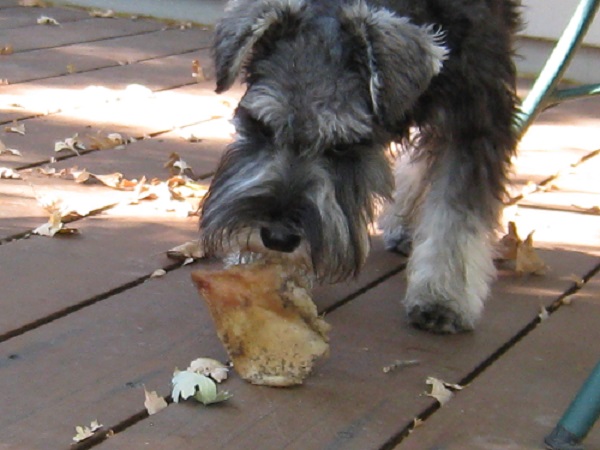 FROM: Susan – Lafayette, CA.
Proud owner of "MERCEDES"
Hi Doug,
Mercy is doing very well. She is very good with people of all ages from infants to the elderly. She is also very good with all other dogs of all sizes but seems to prefer big dogs. She is not so good with my cat, so they're living separate lives.
I took her to Petco to pick out a treat for the occasion, and she selected a pig's ear (it would not have been my choice)—the second picture.
I think she's the perfect puppy!
Thanks you.
Susan
FROM: David & Jose – San Francisco, CA.
Proud owners of "CHARLIE"
Hi Doug and Jose,
We are happy to hear from you, and that you are doing well. Congratulations on your success with showing the dogs. Thriller looks incredible, your grooming must put all the other dogs in the show to shame. I can't believe you had 12 puppies to deal with! It reminds me of when we picked up Charlie.
Charlie is doing well, he is spunky and energetic and then cuddles up with you when it is time to go to bed. We love him so much. We took him to the vet for his yearly shots and he weighs 24.3 pounds. I remember you saying that He may be larger that the other puppies from his litter. He looks very handsome, and has taken over the house.
I can't believe the Holidays are coming again. We have not seen each other since last December when you visited us in San Francisco. If you plan on coming to San Francisco again
please call us so that we can see each other and you can see Charlie. May be we could all go out to dinner, we would love to see you guys.
Thanks for keeping us posted and for sending the photos. Hope to talk to you soon.
Say Hi to Jose.
Regards,
David

"JOCKOMO"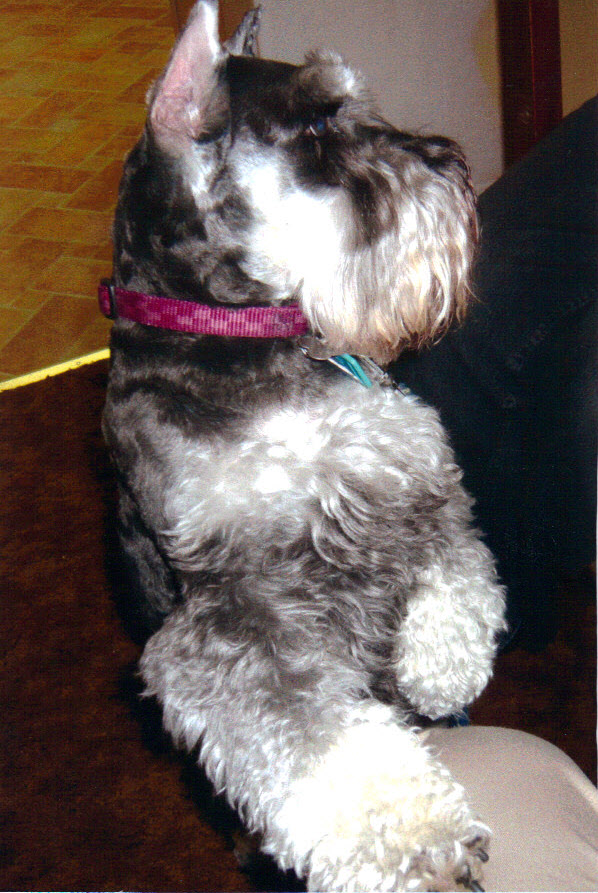 FROM: Mike & Linda – Elk Grove, CA.
Proud owners of "JOCKOMO"
Doug, how nice to hear from you!
Jockomo is doing just great. He is spoiled rotten, but he's such a good dog. He still loves to go to his agility class. We don't compete - it's just for fun, and I've never timed him, but it's fun to watch him do his jumps, hoops, tires, teeter-totter, elevated walk and weave poles. He can sequence over 10 obstacles. He also loves to run alongside of us when we ride our bicycles. He'll jog for a couple of miles or three, then when he gets tired, he rides in the basket on the front of my bike. He's in really good shape. In the evening, he likes to curl up on the couch with Mike and watch tv. For Halloween, he wore a tuxedo (they have a special bark in the park pet day here).
We'd love to see you if you're ever in the area. I know Jockomo would like that.
Linda & Mike
"MONTE"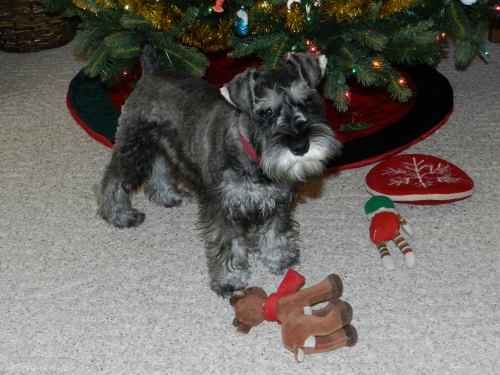 FROM: Jaci & Charlie – Glenwood Springs, CO.
Proud owners of "MONTE"
Hi Doug and Jose,
Hope this note finds you well and..... warm. The outdoor pictures were taken this morning in our back yard and it was only about 5 degrees. Monty loves the snow, as you can see.
Monty just graduated from his first puppy class. He learned quite a bit - sit, stand, come, down and roll over. Monty is just the love of our lives. Everywhere we go, people tell us how gorgeous he is. He's so smart, too. He learned the roll over command in about a day and a half. And, he makes us smile and laugh all the time - what a character he is. We're so happy that he's part of our family.
Take care and Happy New Year.
Jaci and Charlie and Monty
"CHEYENNE"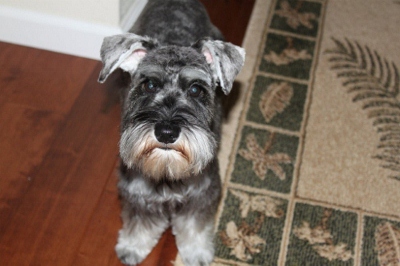 FROM: Scott & Robin – Antelope, CA.
Proud owners of "CHEYENNE"
Hi Doug and Jose,
Cheyenne is doing great. I can't express to you how much enjoyment she has brought us. We finished 16 weeks of obedience classes and she did great, I signed up for another 16 weeks for me and my confidence. She plays really well with my niece and nephew, they are 6 and 4. Everyone commits on her beautiful markings and stance. On the days that Scott and I are both at work she goes to doggie day care so she would not be home alone all day. She enjoys playing with the other dogs and she also gets handler attention. When Scott comes home from work after being gone for 48 hours she is crazy happy to see him. She is a very smart girl we are always trying to stay one step ahead of her. She loves to chase her ball and she is fast. Thought I let know what has been going on in Cheyenne's life for the past year. Thank you for doing a great job with her from the start.
Happy New Year,
Scott and Robin
FROM: Mario and Family – San Francisco, CA.
Proud owners of "JEFE"
Dear Doug,
We really love Jefe, and he really loves us. He is so smart. He learned his name within days of moving into our home. He was really easy to potty train. From the first night, he we walked into his crate and slept throughout the night without a problem. Every morning, everyone in the household wakes up to kisses. The best part of everybody's day in our house is coming home and getting greeted by Jefe.
Jefe enjoys going for walks. He has become a celebrity in the neighborhood. A lot of the neighbors comment how handsome, social, and affectionate he is.
Doug and Jose I cannot thank you two enough for doing such a great job with Jefe.
Sincerely,
Mario and Family.
FROM: Judy, Lexie and Family – Livermore, CA.
Proud owners of "LILY"
Hi,
Lily has settled in nicely with our family. Lexie, of course, loves her and she loves Lexie. We are having a lot of fun with Lily and as time has gone on we can appreciate what a good puppy upbringing she came with. She still sleeps in her crate at night and since she's never been fed scraps from the table she doesn't even get off the sofa when we eat dinner. Thanks for checking on us. She weighed a little over 6 lbs at her last vet appt.
Judy
"MERLIN"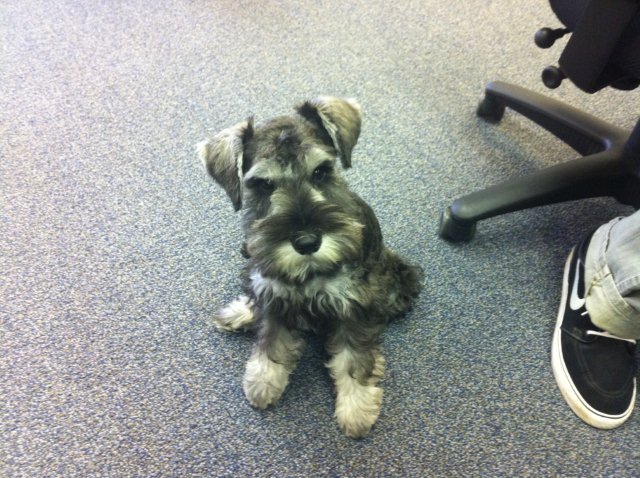 FROM: Rob and Fallon – El Dorado Hills, CA.
Proud owners of "MERLIN"
Doug,
We are absolutely head-over-heels in love and obsessed with Merlin! He is such a wonderful dog. I admit that we spoil him a bit. He gets pretty constant attention as Rob is still taking him to the office every day. He behaves well for the most part. He knows what "No" means when he is getting into stuff he shouldn't. Rob has taught him how to sit, shake, and lay down. Next week we are taking him to a puppy class for a little social interaction and training. My mom's puppy loves Merlin and they play so well together! We got Merlin groomed at a local place and he did really well. He looks so cute with his mini schnauzer cut!! Merlin definitely has a morning routine down with me: wake up at 6 am, go outside to potty, come inside and play while food is soaking, eat, go outside to potty, then run upstairs and jump on the bed to wake up daddy. Then he and Rob keep snoozing on the bed while I get ready for work. He just loves to cuddle in the mornings!
Hope you are well,
Fallon
3 YEAR UPDATE ON "MERLIN"
Hi Doug!,
All is well here. Merlin is healthy, and a happy dog! He gets to come to work with me everyday and everyone loves him. According to everyone, "Merlin doesn't think he is a dog. He thinks he is a person". He is so funny. He walks around to everyone in the office and jumps up on them and just stares at them with his black beady eyes, begging for attention. We tried taking him to doggy day care a couple of times, but he isn't happy when he goes. He doesn't like hanging out with the other dogs, and would rather be around people "like him". Not that he doesn't get along with other dogs, he actually has two girlfriends that he hangs out with regularly: Sophie (In-law's Chow) and Roo (Parents Golden-Doodle).
Other news: Fallon is 28 weeks pregnant and we are having a baby boy! Everyone is worried Merlin will be jealous, but I will make sure that he still gets plenty of attention. It's funny because he has been protective over her and her belly lately. I think he knows somethings going on!
Hope all is well. Thanks for checking in!
Take care,
Rob
5 YEAR UPDATE ON "MERLIN"
Hi Doug!
I'm sorry for the delayed reply. We were on vacation. Merlin is doing great! He has adjusted so well to having a little human brother and he has another human brother on the way! He and our 2 year old son play so well together. When we get home, he is just as excited to see our son as he is to see us. It probably helps that our son enjoys being the one to feed Merlin his dog food (and scraps from the high chair)! As ever, Merlin is still a food/treat motivated dog! We keep his beard a bit shorter than usual for the breed because when he drinks water it drips on the tile and makes it a slipping hazard! He doesn't seem to mind and his name still fits
"NAPA"

FROM: Stefanie and Stephen – Santa Clara, CA.
Proud owners of "NAPA"
Hi, Doug,
I thought you might want to know that we took NAPA to his first haircut the passing weekend. I attach a photo of "before" and "after". According to the groomers in Petco, he was such a doll! He looks all "schnauzer" now. I miss his fluffy touch a little but he looks very neat and handsome!
We also started taking him to a puppy lesson last Saturday. He's learning "sit""stand""come""down". He can even get his toys back to us. He's so adorable! I just can't get enough of him!
Talking to my friends who have dogs really makes me realize how smart schnauzers are! For example, NAPA never bites on furniture or car even when we are not watching him. He learned very quickly for most of the basic things. His hearing is great that he can tell the sound of his bowl from other steel sounds. He's active, and also sweet. Now he's kind of following us around the house, observing what we are doing.
He's more than 9 pounds now. I cannot believe how little he is when we first got him. Steven and I are surely enjoying his accompany. Thanks again.
Happy holidays!
Stefanie
"MUSHU"
FROM: Tai and Family – San Jose, CA.
Proud owners of "MUSHU"
Hi Doug,
The family and Mushu are doing great. The kids get along with Mushu really well, especially our youngest, Isabel. Mushu follows her everywhere, except that I think Mushu is going to out grow her very soon. Anyway, hope everything is well for you also.
Take care,
Tai
3 YEAR UPDATE ON "MUSHU"
Hi Doug,
Thanks for the birthday wish to Mushu. He is doing great. He has become an important member of our family, especially to my daughter. They are very close together. Actually one of my friend is very interested in adopting a Schnauzer like Mushu. Do you have any more litter for sale?
Thanks,
Tai
FROM: Ken and Annie - Vacaville, CA.
Proud owners of "MAXIMILLIEN"
Doug and Jose !
Just a note to let you know that you did an excellent job training your boy Uno-Max. He gave out one little whimper when Doug left.... that was it ! He ate his dinner with no problem and believe it or not, slept all night without a whimper and without waking up. We were ready to award him the Medal of Honor..... It is now six p.m. on Friday. He is eating well, seems happy and content and, at least so far, has not had a mishap of any kind in the house.
There is only one problem.... He seems to like Annie far better than me. I can't understand why..... she only feeds him, potties him, cuddles him and constantly holds him in her lap and kisses his face. I hold him, tell him how handsome and smart he is and generally spoil him rotten. I have to say in all honesty, he has exhibited extreme intelligence and good judgment by liking Annie better, but I will soon break him of that bad habit....
We enjoyed meeting you guys and would love to have you visit as often as you can. Thanks once again for brightening our lives with this great little "Max". We love him to pieces.
Ken and Annie
"GRACIE MAE"
FROM: Russ and Claudia - Danville, CA.
Proud Owners of "GRACIE MAE"
Dear Doug and Jose,
Thank you for finding me such a wonderful forever home. You might have found one equally as good, but I doubt you could have found a better one. Of course I miss you and my family, but life is good here.
I love everyone in this family including my Yorkie brother, the two cats and bird, but I have special feelings for my Dad. He gives me lots of personal attention and we spend a lot of time together. With my Dad being retired and Mom running a business from the home office, I rarely am home alone. When they do go on trips, a pet sitter moves in to take care of us so I always have someone to sleep with at bedtime. I have heard of commercial kennels, but Mom and Dad say that the kennels are not good enough for us.
Chasing the blue racquet ball is my all time favorite pastime. Dad says the racquet balls are much more durable than tennis balls and they don't get all dirty and gross. I love to exercise my jaw muscles on them too. Mom calls it my binky. When I get tired of chewing I drop it and Dad will throw it again. I am quite agile and I love catching them midair. The big back yard is perfect for playing ball, but when the weather doesn't permit it, there is a long hallway that I can use to chase my toys and I love playing tug-of-war too.
After my breakfast I lie on Dad's lap while he eats his. I get lots of play time, but whenever I want some loving I just go to Dad and he stops whatever he is doing and picks me up. Dad likes it when I hug him with my front paws and legs while he scratches my ears and strokes the side of my head. Dad says that I am not spoiled, just pampered. Sometimes when I'm cradled in his arms he asks Mom if my bottle is ready. I don't know what he means but they both think it's funny.
Dad always tells me that I am a good, well behaved dog. I love pleasing everyone in this family.
Thank you both for bringing me up with lots of love and finding me this loving forever home.
Love,
Gracie Mae
2 YEAR UPDATE ON "GRACIE MAE"
Hi Doug and Jose,
For the longest time now, the giant yellow bone that you sent home with Gracie has been ''out of sight, out of mind'' at the bottom of her toy box. I recently rediscovered it and brought it out. Gracie got so excited, like she was reacquainted with a long lost friend. In the photos you can see where I stitched it up, a needed repair from her puppy chewing days. She had fun playing with it for a short time and then it was back to her "tug-of-war" and the smaller chase and retrieve toys, but I think she still enjoys having it nearby. Anyway I thought you might enjoy the attached photos.
Gracie continues to be so much fun and loves to be loved by everyone (and vice versa!).
Hope all is well with you both.
Russ
"BOO"
FROM: Jack and Joan - Ventura, CA.
Proud owners of "BOO"
Hi Doug....
Boo is such a fun dog to have around. He loves car rides, the dog park, chasing after his toys, water bottles, barking at people walking down our street, and curling up on the floor next to Jack, when Jack's reading on the sofa. When he wants to play, he'll bring a toy over and stand up next to you until you take it and throw it for him. He and Lilly are getting along much better and he only antagonizes her once in a while now. When they are at the dog park, Lilly likes to explore the perimeter of the park while Boo runs to play with the other dogs. But, he doesn't stay away from her very long. He frequently comes back to her to hang out and check out what she's sniffing. He's a pro at running in and out of the doggie door now. Boo's favorite time of the day is cocktail time. No matter where he is, even if he's outside, as soon as he hears the icemaker, he runs to the refrigerator to get an ice cube to play with.
Thanks
Joan
5 YEAR UPDATE ON "BOO"
It's Boo's 5th birthday! He had a great day.... After sleeping in, he spent a relaxing afternoon getting a shampoo & haircut, and then got his birthday gifts: a new name tag & squeaky toy. Dinner was a delicious lamb and vegetable stew (wet dog food that he only gets on special occasions... Or when we run out out dry dog food!)
He is doing great... Healthy and in charge of the household. He bark's vigorously whenever anyone comes to the front door... Even when they have been here a hundred times...But calms down within minutes and then totally ignores them.
We love him to pieces and cannot imagine our lives without him. He is a very, very special boy.
Hope that you and Jose are doing well. Please let us know if you are ever in the Ventura area. I cannot promise that Boo will behave but it would be nice to see you. :)
Joan
"PEBBLES" and "SOPHIE"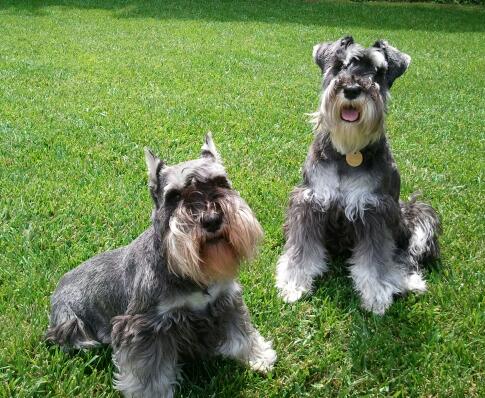 FROM: Aaron and Patricia - La Habra, CA.
Proud owners of sisters "PEBBLES" and "SOPHIE"
Hi Doug,
Sophie is great! We are still in the process of potty training. She knows how to use her doggy door and goes in and out of the house when she wants to play. She has mastered going up and down the stairs like a champ! Aaron and I could not be any happier!! We will forever be grateful for having her in our family. On a side note if you do need to find Pebbles a home, please keep us in mind. We would love to get Sophie a companion!
Best Regards,
Patricia